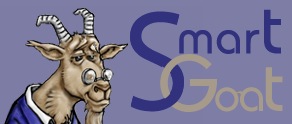 Yesterday, we officially launched the all new Smart Goat website. It has a new look, new features, and, with any luck, a new tendency to get updated regularly.
This redesign has been a long time coming. We've been working on it off and on for months, when time permitted. In the last couple of weeks, though, it's been our primary focus. We're looking at doing a lot of new projects in the next few weeks and we wanted a proper place to showcase those projects.
Over the next few weeks, I'll be posting here about the technical aspects of the new site — the techniques we used and how it all came together. And on the Smart Goat blog I'll be writing about why we did it the way we did and the business advantage of those techniques.
To start things off, here are a few highlights of the new site:
Movable Type 4 — The new site is completely powered by the new Movable Type 4. MT4 is an absolute joy to work with — so much so that when I get around to redesigning this site, it will go back to being an MT blog.

Newsletter — We're going to be publishing an email newsletter about once a month. It will basically be the same as what's posted to the blog, except with slightly more stories about goats.

Events & Links — The page footer displays business-related links we've delicioused and events we're attending.
Best of all, the design is actually finished, something I never achieved with the previous design. And by finished I mean I still have a list of 30+ things I still want to do to the site. But still, it's finished.
---