The following was written in June of 2003 about a trip we took in October of 2002. Timing is everything.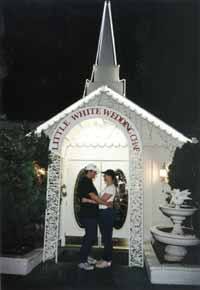 Our Las Vegas wedding began with being picked up by a white limo at the Aladdin. Our driver, Chase, took us on a slow drive to "A Little White Wedding Chapel." Being the backwoods yokels that we are, we weren't the least bit embarrassed to play with all the gadgets in the back.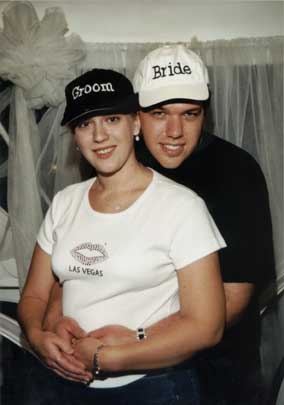 When we got to the chapel, Chase drove us through the "Tunnel of Love" — a 24-hour drive-through wedding window. That's right, when we renew our vows in Vegas, we do it in style. Chase made the obligatory fast-food joke, then went in to tell the people we were here. We just relaxed in the limo, while people stopped by from time to time to have us sign things or to let us know what was going on. We could see other wedding parties taking pictures in front of the various props. They must have been first-timers — they were doing the whole "dressed up" thing. Amateurs.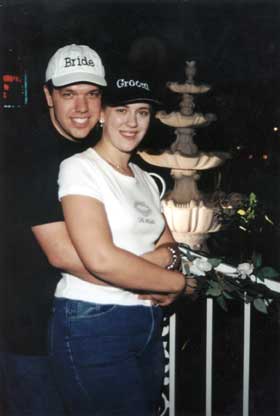 When things were finally ready, we stood up in the limo, stuck our heads out the moon roof (sunroof? Who knows…), and faced the minister in the drive-up window. It was a lovely ceremony, punctuated by the highway noise about 10 yards behind us. I did my best to repeat what the minister was saying, but it wasn't always easy to hear him. I'm sure I got a few words wrong, but, whatever I said, I meant.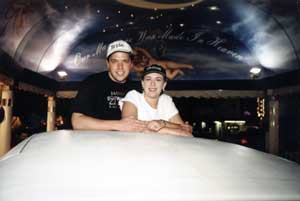 After the ceremony, we ducked back into the limo to wait for the photographer. We eventually decided we'd like to stretch our legs a bit. That's when we learned something interesting about the limo — the back doors don't open from the inside. As we pondered whether this was a wedding or a kidnapping, the photographer came and knocked on the door. He couldn't see us through the tint, and we couldn't get to the door fast enough to get his attention. As he started to walk away, I finally realized the trick — I rolled down the window and opened the door from the outside. Sure, laugh — it's not that easy to think of such things on one's wedding day.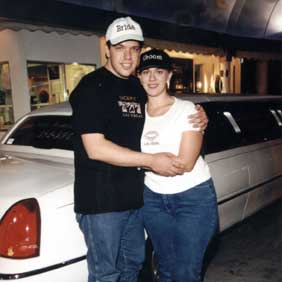 The photographer took our picture in various places around the chapel, then Chase took us home. It was a completely crazy thing to do, which is probably what was so fun about it. I highly recommend getting married as often as possible… to the same person.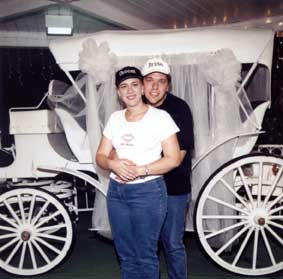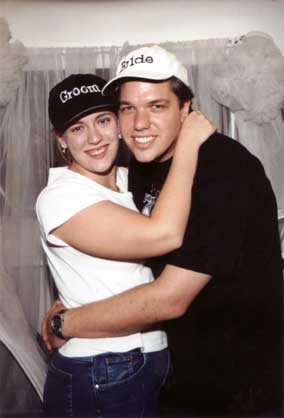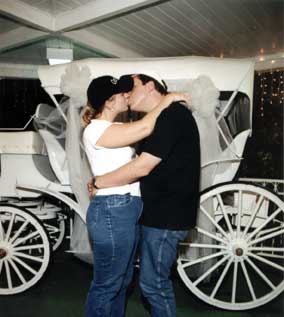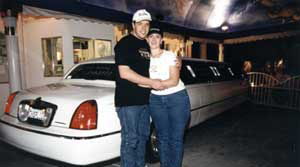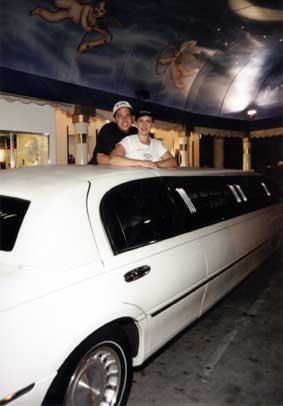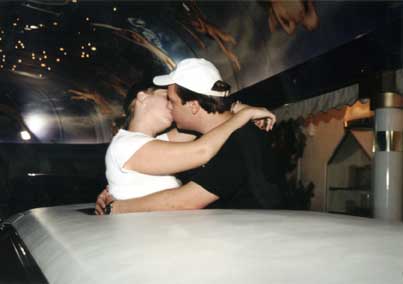 ---